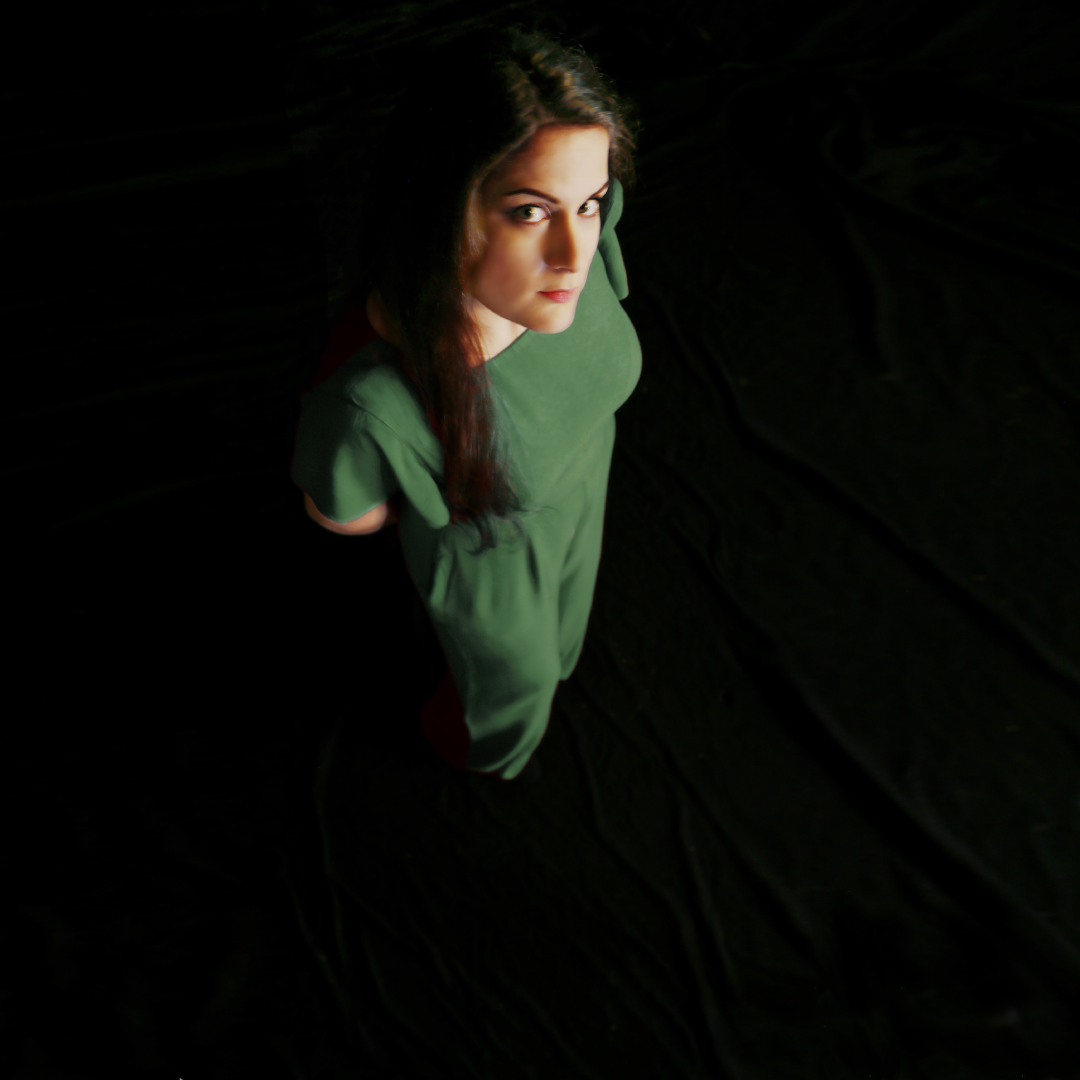 Vasiliki Kourti-Papamoustou (1988) is a Greek composer of instrumental, electroacoustic, film and theatre music, currently living and working in Freiburg, Germany. Since 2012 she has been active in the field of music production and sound design.
Vasiliki's experiments regarding musical structure and sonic qualities are often inspired by non-musical parameters, like texts, art and poetry. Recognising that music tradition is deeply etched into the listener's mind, she doesn't reject existing composing techniques, moreover she redefines them, filtering them through her individual viewpoint. Often she uses extended instrumental techniques in order to create unique soundscapes which unfold in a narrative way, emphasising elements of culmination and surprise. From a cinematic perspective, she is particularly interested in exploring the boundaries between sound design and music. 
Her work has been presented: in the french-german television (arte, MDR), in film festivals in Los Angeles (Indie Short Fest, Global Shorts), Finland (Tampere Film Festival), France (Visions Du Reel), Germany (20. Flensburger Kurzfilmtage, 28. Bamberger Kurzfilmtage) and Argentina (Santiago del Estero Film Fest); in music festivals and institutions internationally, such as Donaueschinger Musiktage (next generation), Nuova Consonanza Festival in Rome, Komische Oper Berlin, Academy of Arts Berlin, ZKM (Center for Art and Media) Karlsruhe, Athens Megaron Concert Hall, EUROMicroFest 2019, TechFest Festival 2019 (Aberdeen, Scotland), Tanzbiennale Heidelberg 2018, Goethe Institut Bolivia, Albert Kestner Museum in Hannover, Antikenmuseum Basel (Switzerland), Antikenfestival Padua 2018 (Italy), Theater Freiburg. She has collaborated with ensembles, orchestras and artists such as duo Contour (Freiburg), Furano Saxophone Quartet (Foggia), Black Forest Percussion Group (Freiburg), Ivan Solano (Strasbourg), Community Oper Freiburg, the 'Klangwerk LIED' Association, the Drehorgel constructor Achim Schneider, Gabriela Stellino, Idee Fixe (Director: Miltos Logiadis), Sinfonietta Ensemble (Trossingen), Hellenic ensemble for contemporary music (director: Theodor Antoniou), the Comic Opera Berlin Orchestra, the Musikhochschule Freiburg Orchestra, the Sölden Wind Band (Germany).
She is dedicated to expanding and promoting children's contemporary music repertoire, as she believes that contact with experimental music as well as the formatting of a conscious listener should begin from a young age. She was commissioned numerous times in scope of the Project 'NEUES ZEUG' to compose new music pieces for children, amongst them in collaboration with the Carl Bechstein Foundation (children's piano competition 2017 in Berlin). Since June 2023 she is the co-director of 'NEUES ZEUG', together with Katharina Schmauder.
Vasiliki has been awarded with prizes and distinctions for her work as a film composer, as well as in national and international composition competitions. In 2018, the short film 'Elefant' won the Jury Award at the Tolpuddle Radical Film Festival and in 2014 the full-length film "Nachtschwärmer" won the Citizen's Prize (Bürgerpreis) Freiburg Nördlicher Breisgau 2014 at the category U21. She received a Honorary Diploma at the 2013 Edison Denisov International Young Composers Competition, the 3rd Prize at the 5th National Composition Competition "D. Dragatakis" in 2012, the 2nd Prize at the 11th National Composition Competition "Y.A. Papaioannou" in 2011, the 1st Prize at the International Composition Competition "Synthermia 2009", and she was a selected participant at the 6th National Competition Festival of Chamber Music in 2008.
She is a CONCERTO 2015/16 Music Scholarship holder (Alfred-Töpfer-Stiftung F.V.S.) In 2013/14 she was awarded with a Scholarship from the DAAD and in 2009/10 with a Scholarship for outstanding performance from the Greek National Scholarship Foundation. She studied Composition (Master) and Film Music (Master) with Cornelius Schwehr at the University of Music Freiburg (DE), as well as Composition (Bachelor and Master of Arts) in the class of Christos Samaras at the Aristotle University of Thessaloniki (GR). Additionally, she studied Fugue and Orchestration (Philippos Nakas Conservatory, GR), Counterpoint, Classical Harmony and Piano (New Conservatory of Thessaloniki, GR).
She is currently teaching composition, advanced music theory, sound engineering and piano at the Waldkirch music school as well as piano at the Northern Breisgau Music School. She is a member of GEDOK Freiburg, the Musikverein 'Zeug und Quer e.V.', Freiburg i. Br., the 'Interessengemeinschaft Freiburger Komponisten (IFK) e.V.', as well as the 'Initiative freie Musikszene Freiburg' (IFMS FR).
Bio current as of September 2023